Tuesday, January 26, 2010
Posted by

Wesley
at 12:23 AM
No comments:

I've been meaning to feature this since it went down...
A bunch of guys and girls came together and organized an island ride. Unfortunately there's not a road that takes you around the whole island. Don't know why. After their ride they had an afterparty/bbq at Manifest: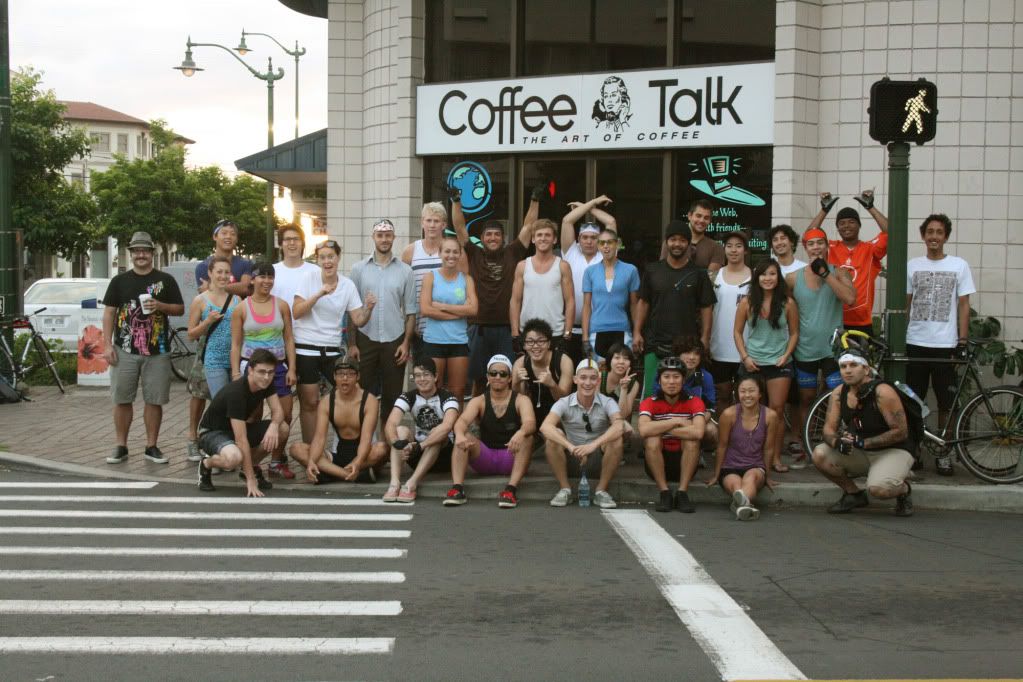 Posted by

Wesley
at 12:06 AM
No comments:

Sunday, January 24, 2010
I apologize for being m.i.a! Last week two awesome events: 1) night ride through downtown. 2) Sony Open.
I met up with my friends Ryan and Jon. We've been talking about doing a night ride downtown and we finally did it. Ryan custom built his own fixed gear and brought that out, while Jon brought out his mountain bike. He's in the process of picking up/building his own fixed gear also. All that mattered was we got to ride. Meeting point was Fresh Cafe, previously featured in past blogs. (I really have to do a blog just on them). We rammed around the streets of Honolulu for a bit and decided to head downtown to a place called Manifest to grab a few beers before heading back. It was an awesome time with temperatures in the mid 60s and not too many cars on the streets. Ryan and Jon were also stoked about how free we could roam the streets. I'm still working up the skills to take some video while riding. Though it was the first ride, it definitely won't be the last.
Directions
Lock it up!
Ryan
One of the many "characters" downtown that make riding at night fun.
Jon
Parking spot
@ Fresh
Saddle
Tension
Badge
Post ride snack:
Bagel, chocolate chip cookies, steamed pork bun
Over the weekend was the PGA Sony Open. My first one and it was super fun to watch. It was definitely an experience being able to follow the pros from hole to hole while holding a cold beer in your hand. No cameras or phones were allowed into the course so I could only snap some pics of what was going on outside. I didn't realize how much pressure these guys are under with huge crowds watching every move they make! They were damn good! I don't golf, but I definitely admired the skill and patience you need to be good at the game. Overall, it was a great experience. I did have thoughts about how It would've been awesome to be able to jet through the course on my bike.
9th Hole
The weather was pretty nice I'd say...
The beach park right outside of the course. (Why-ah-lie)
Posted by

Wesley
at 12:46 PM
1 comment:

Sunday, January 10, 2010
For the past couple of days it's been "Voggy" here. A.k.a "volcanic smog." This happens when the wind comes out of the south instead of the East or North. The Vog comes from the erupting Kilauea Volcano on the Big Island. Basically the gases from the volcano react with the oxygen in the air, and in the sunlight it looks like smog blanketing the island.
The surf forecast called for increasing waves, possibly reaching 30 ft. Only thing is...the swell is supposed to come in tonight. Found that out this morning when I called the forecast. Oh well, I thought I'd enjoy a day at the beach anyway. The Haleiwa Farmer's Market was first on the list. Open from 9am-1pm on Sundays. I saw the signs for the farmer's market the last time I came up to check out the Pipeline Masters and vowed to make it back up to check it out. And boy am I glad I did. This farmer's market was awesome! It's a small one, but the vendors definitely made this farmer's market what it is. I'm a big fan of eating, buying, and supporting local, and this farmer's market encompasses a genuine aloha spirit and each vendor exemplified a passion for their products. Coffee, breakfast burritos, crepes, fruits, vegetables, honey, sea asparagus, tomatoes, jewelry, summer rolls, and more were available at this farmer's market. I'll definitely be back next weekend!
Next on the agenda was a relaxing day at Pipeline...but the weather turned sour really quick and the rains came. The waves were mush, it was cold, windy, and rainy. I had to bust out my rain jacket! It was probably 73 degrees and with the wind and rain,...a couple degrees less! I know, I know, I'm being sarcastic. We're spoiled here weather wise. I've been watching the news and seeing the midwest being smashed with temps I can't even wrap my mind around. When I lived in Omaha, NE I experienced single digit temperatures and windchill, and I am grateful for the weather we have here. If I could I would love to give those of you freezing on the mainland some of our weather, even if it were for a couple hours. But when you live with 80 degrees and sunny everyday, 70 degrees actually feels "chilly." Funny huh!
Amidst the rain and a failed beach day, I also found a small bike shop (that I will feature on my blog in the near future) that rents out bikes to people on the north shore for $10/24 hours! This is a hidden gem. The best way to explore the north shore is by bike! I've seen and experienced so many things I've never knew existed on my last bike ride! I can't wait to feature these guys on a future blog. Stay tuned.
Coming up this weekend is the Sony Open. Golf. I'm not a golfer AT ALL, but I got tickets and have never been to a professional event like this so I thought I'd take this opportunity. Unfortunately Tiger will NOT be attending. Cameras and phones are prohibited in some areas but I'll try to cover as much as I can. So stay tuned for this also. Shoots!
Haleiwa Farmer's Market
Waialua Coffee
Honey
"Keiki Korner" Keiki(kay-key)=child/children
Eggs and Bacon hand crafted glass jewelry
Entertainment
Fresh Made Neopolitan pizza!
Smoked Marlin and smoked Ahi were the two faves
Crepes
Me sampling freshly made boiled peanuts
(check out the sign lower left)
Thinking about the environment at the farmer's market
Mushy surf, gray skies, rainy...thumbs down
Felt bad for the tourists not getting a picture perfect "Hawaiian day"
Posted by

Wesley
at 7:39 PM
1 comment: